The Dee Autumn Head takes place on the River Dee in Chester. Crews race from the A55 'motorway' bridge to Dee Lane. A distance of just under 4000m.
2020.
The organisers are planning a race for 2020. This will most likely be a virtual race. 
Details to follow
2019 Race Cancelled. 
Statement from the organising committee
Grosvenor Rowing Club would like to apologise wholeheartedly for the inconvenience caused by the event being cancelled. We understand that a cancellation before people had travelled to Chester would have been less impactful. However, we witnessed an exceptional increase in the river level caused by the overnight rainfall on Friday.
We will take the learnings from this event forwards into the planning for future events on the River Dee. We will update our decision making information with these learnings.
River level monitoring on Friday evening indicated the event would be unaffected by the rain falling on Friday. This assumption was called out by exceptional weather conditions overnight and the event had to be cancelled because the river was too dangerous for rowing.
2019 Race Documents

:
Boating times HERE.
Boat circulation pattern at the finish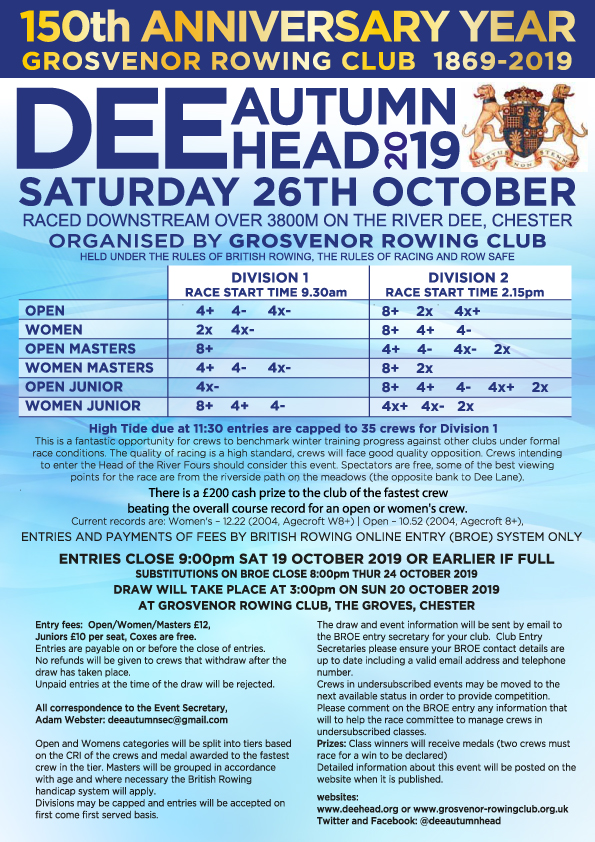 The race is on 26th October.  There will be 2 Divisions as normal.
A high tide on the course at 11.30 means we have to reduce the size of the field in the first division.
Unfortunately, this means we can not accomodate single sculls this year. We will be accepting entries for eights fours quads and doubles
Special 150th anniversary medals will be presented to winning crews.
The poster will be online soon.
2018 Results by event.
HERE
Support Our Event by Becoming A Sponsor 

The committee would like to invite sponsorship support for the Dee Autumn Head which is expected to deliver a desirable demographic. This is in an exciting weekend of competitive rowing in the heart of Chester which will benefit local businesses significantly. We anticipate a large crowd in attendance comprising of; athletes from participating clubs across the North West and beyond (we usually have around 850 racing seats entered), their respective coaches, families and peers as well as visiting tourists & local people who have in previous years watched the athletes compete. 
 We have a range of sponsorship packages available (which can be tailored to maximise your brand exposure) including; race sponsorship, on-the-ground presence, ambient media & online advertising (website & social media) as well as fantastic hospitality on the day. The event is also well publicised in local media.
 If you would like to find out more about sponsoring The Dee Autumn Head, please contact: deeautumnsec@gmail.com
 ----------------------------------------------------------------
Historical results:Here
_____________________________
The event is held under the Rules of British Rowing, the Rules of Racing and Row Safe.